Registration Procedure

Registration Fees (17% VAT Included)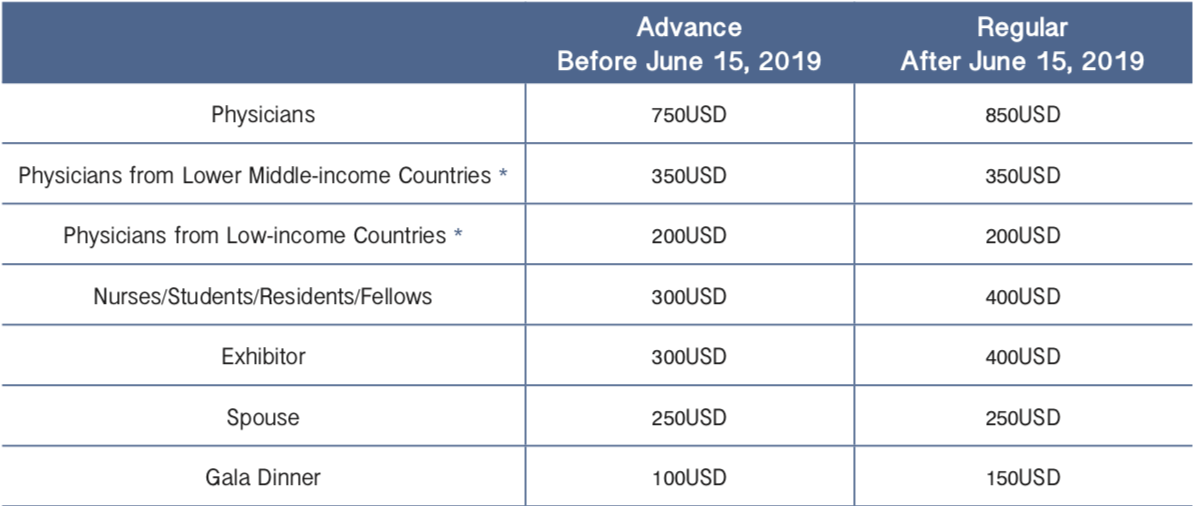 *Special grants are available to doctors from lower-middle-income countries and low-income countries.

Low-income Countries List
Lower-middle-income Countries List
Source:World Bank, Low-income and Lower-middle income countries, current fiscal year 2019.(http://data.worldbank.org/about/country-and-lending-groups)

Registration Fee include
:

Participation in all scientific sessions and entrance to the Exhibition

Ticket for the Carnival on the Great Wall on Sept. 9th

Lunches and Coffee Breaks from Sept. 9th to 12th

All printed Congress Materials


Congress Souvenir
Payment:
Online payment
On-site payment
Payment Statue(Please visit "MY PAGE" on the website),


After you complete your online registration, please visit 'My Page.'


Payment Status will be changed to 'Complete'.


Confirmation of Registration

Confirmation of Registration can be downloaded upon making the appropriate payment


Registration without appropriate payment will not be honored until the full payment is received.

On-site Registration Schedule
Location: 1st Floor, China National Convention Center
· Opening Hours:


08:00am-20:00pm September 7 (Saturday)


08:00am-20:00pm September 8 (Sunday)


06:30am-20:00pm September 9 (Monday)


06:30am-20:00pm September 10 (Tuesday)


06:30am-20:00pm September 11 (Wednesday)


06:30am-20:00pm September 12 (Thursday)

Cancellation and Refund Policy:

A written request of cancellation should be sent by E-mail before August 20th. (registration@wfns2019.org)


Refund requests will be processed ONLY after the Conference.


For online payment, refunds will be applied to the original card used during payment after 21 working days approximately.


All payments will be made through the third-party payment platform "PayEase".


Refund details:
Before August 20th, 80% refund.
After August 20th, no refund. As an alternative to cancellation, you could transfer your registration to another attendee.


WFNS2019 Secretariat
Carly Dong
E- mail: reg@wfns2019.org